Happy August!
I'm so excited to share my reads from last month. Two of my favorite authors, Taylor Jenkins Reid and Jasmine Guillory had new books out. I can't even tell you how hyped I was to read them! Also, I finally read something by Colleen Hoover after having heard so much love for her books. I will definitely be reading more from her!
As always I'd love to hear from you if you have any great book recommendations or favorites you recently read!
July Reads:
I've been a fan of Taylor Jenkins Reid for a while now. Her older books Maybe In Another Life, After I Do, and One True Loves are some of my all-time favorite reads.
Her newest book, Malibu Rising, tells the story of a massive party the 4 Riva siblings throw every year in Malibu while also going back and telling the story of their relationship with their deadbeat but very famous dad. Most of the story takes place the night of the party in 1983.
I'm honestly unsure of how I netted out on this book. I ultimately liked this book, but definitely didn't love it. It moved way too slow for me and if it was by any other author I probably would've ditched it midway through. Overall it was a bit boring as not a ton happened leading up to finally a big climax of the party.
I will say that I know many people who LOVED this book. Just because I didn't love it doesn't mean you won't!
My Rating: 3.5/5
📚
TW: Domestic abuve, rape, and suicide.
It's been a while since I read I book I absolutely couldn't put down. This? This was that kind of book. I'm pretty sure I sped through it in the span of 24 hours which is super rare for me.
Lily moved to Boston to get far far away from her childhood. A few months later, she meets a guy, Ryle, on a random rooftop. 6 months later they meet again — and turns out he's the big brother of her new good friend.
This new relationship with Ryle brings back memories of Lily's first love from high school. And dark aspects of her childhood she's trying to forget.
I don't want to share too much about this book as I think some of the magic is watching it all unfold, but WOW, I loved this book so much. It will totally break your heart and I cannot recommend it enough.
My Rating: 5/5
📚
Patrick, AKA Gay Uncle Patrick or GUP for short ends up as the caretaker for his niece and nephew after their mother (Patrick's best friend from college) passes away and their father (Patrick's brother) needs to deal with some of his own issues. Patrick had spent a few years being a beloved character on a super successful TV show, but he's since been avoiding the spotlight in Palm Springs.
This book reminded me a lot about the movie Raising Helen, the fun aunt/uncle ends up in charge of their niece and nephew after something tragic happens.
Overall I enjoyed this book but didn't always love the writing. It's a sweet, funny, and charming but also intense look at grief and how we deal with loss.
My Rating: 4/5
📚
I'm a big big fan of all things by Jasmine Guillory. All six of her books take place in the same world (the Guilloryverse if you will 😂) but you don't necessarily need to read them in order.
This book centers around advertising hot-shot Ben (the little brother of Theo from The Wedding Party!) and movie star Anna Gardiner. Ben isn't the relationship type but when he ends up working on a big advertising campaign with Anna, he is immediately drawn to her. Sparks fly when a crisis in Anna's family brings the two together for a long road trip.
While Ben and Anna want to keep it casual, Anna's manager urges them to play up their relationship to get Anna some good media buzz.
I loved learning more about Ben and Anna, they are both lovely as main characters. The book also has some delightful easter eggs for people that have read other books in the Guilloryverse. It's not my overall favorite of the series. I think my favorite is still Party of Two. I can't quite put my finger on it, but this book lacked some of the really in-depth emotional feels that the others from Jasmine Guillory have for me. Even so, it's still a fun, steamy, enjoyable read.
My Rating: 4.5/5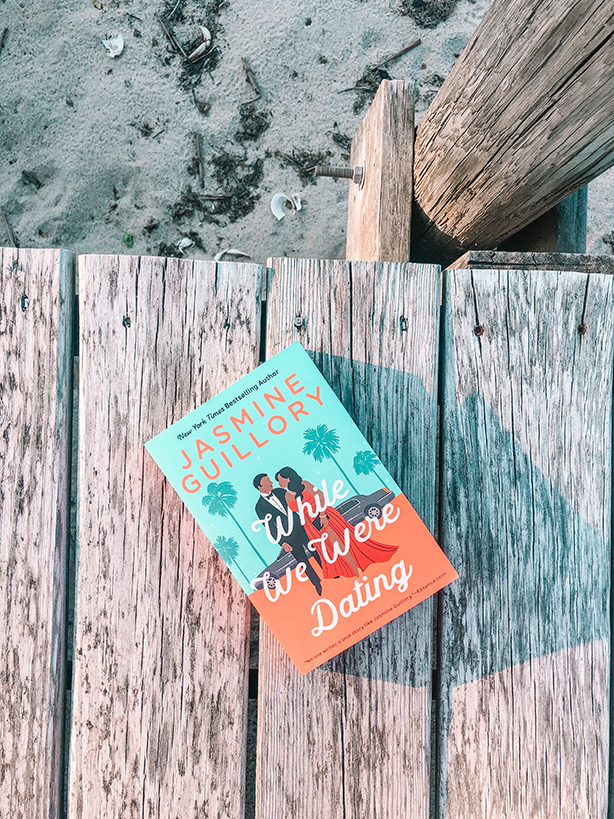 This blog post contains affiliate links. Thank you for supporting Kayla in the City!